IMPROVE YOUR ENGLISH LANGUAGE DROP IN 
With many new and settled migrants living in   Leeds, improving their English language is vital to   their progress to integrate and become active  citizens of the UK.  
So, to support these groups that do not fall under  the category of Asylum Seekers and Refugees,  Migrant Action in partnership with Proverbs 31  Woman Community College delivers   Functional Skills & English Grammar Drop in Class  for migrants looking to up skill and improve their  English for employment and further education.  
An environment has been created to encourage and  cultivate the best out of each migrants that have no  other choice than to prioritize getting into paid  work.
Learning Style: Blended (Classroom & Home) – 1 Day in Class and Homework Provided Duration: 5 Months (May to September) Learner Registration: 12 Leaners Regular Attendance: 6 – 8 Leaners Weekly Group Type: Mixed Background
Group Level: Mixed (Entry 1 – Level 1) Opportunity: Progress on to an Accredited Qualification after 3 months. Certificate of Completion Awarded at the end of the course.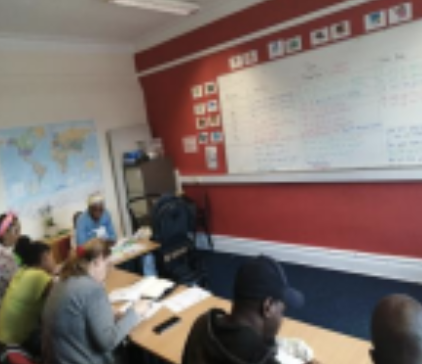 The class is open to migrant groups that are new and settled, who are seeking for employment and looking to get into higher education to pursue their dreams.
Address: Migrant Action, Roundhay Resource Centre, 233-237 Roundhay Road, LS8 4HS
COURSE PROVIDED BY PROVERBS 31 WOMAN
EDUCATION & TRAINING COMMUNITY COLLEGE
Curtis House Business Centre, 4 Berking Avenue, Leeds, LS9 6HH
0113 440 1287 / 0746 649 2740 | admin@proverbs31woman.co.uk | www.proverbs31woman.education