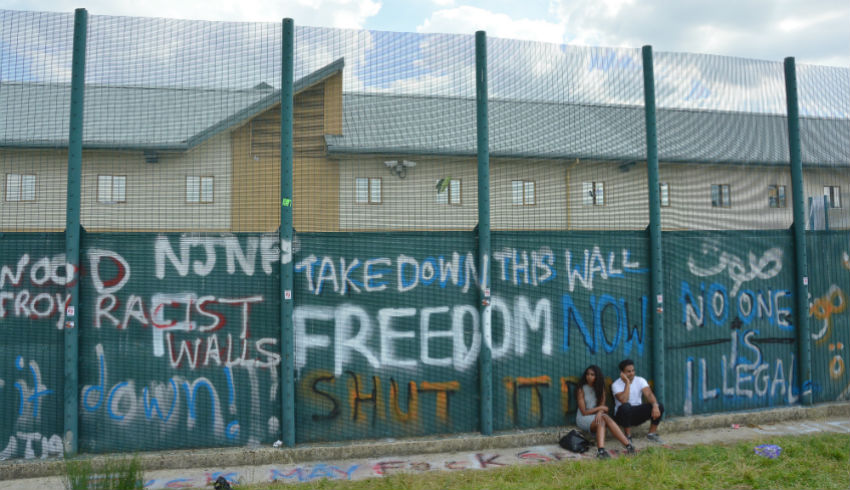 27,331 people were held in UK detention estate in 2017 on grounds of 'breaching' immigration rules. Detention is integral to UK immigration policy as an instrument for immigration control, economic exploitation and the institutionalisation of social injustice. For many detainees, detention violently robs them of their humanity and dignity. Detention centres are a regular and significant mechanism in the government's immigration system and central to the its hostile environment agenda.
In 2018, Alex Sobel MP, in a talk at the University of Leeds captured vividly some of the unique and defining characteristics of UK detention estate; He revealed the structural violence and abuses within the system unique in comparison to the rest of Europe. One of the defining features of the UK detention system is its accommodation of unlawful and indefinite detention. The Home Office have the power to detain people indefinitely, without authorisation from judges. For Sobel, this policy does not reflect what he thought a liberal democracy was, but instead an authoritarian, undemocratic government. In 2017, one person had been held for 1,514 days, more than four years. What has been suggested as an improvement is a 28-day limit on immigration detention. However this has been shunned by the government who argue this is just a 'slogan' and has no real evidential backing. However, the fact that one can be held in detention for two months and in some cases years without access to justice is at odds with their human rights and the fundamental premise of the UK judicial system.
Along with the indefinite time period, Sobel describes the inhumane conditions of detention centres. Firms like G4S who are contracted to manage these centres, provide the bare minimum conditions under the government's watch. For example, there are regular cases of unlawful and fatal use of restraint, which has a detrimental physical and mental effects on migrants. Since 2010, there has been six rulings in UK courts on the treatment of migrants in detention centres, as the treatment is seen in breach of rights under Article 3 of the European convention of human rights (right not to suffer torture or inhuman and degrading treatment). No doubt, many more cases would have been taken to court, however it is common for migrants to lack knowledge of their own legal rights, which is another problem.
Despite these problems laid out by Sobel, there is a distinctive lack of engagement with the topic of detention centres by the public, even though around £108 million of taxpayer's money funds this abusive system every year. In the 2018 Shaw Report, it is stated that detention centres are "little known and little understood" by the public and the media. Migrant Action believe that this public 'amnesia' and culture of distance about the institutional violence within the UK detention estate embolden the state apparatus to pursue unnoticed rampant state harm on vulnerable migrants behind the walls of detention centres.
It is our mission to lift the veil off the injustices and violence in detention centres and help build public consciousness towards greater accountability by the state.
Migrant Action believe detention centres are embedded in a wider issue of chronic, systematic underinvestment in the immigration system. They are emblematic of government's approach towards migrants, described by MP Joan Ryan as "going after low hanging fruit to meet immigration numbers". There is a strong view that the government have an abundance of evidence for action, however they strategically shuffle around this. For example recently, the Immigration Regulations and the Detention Centres Rule 2018 was formed right before Stephen Shaw's second review into detention centres. This was so the Home Secretary could push through a new definition of torture within the detention centres through parliament, preventing Shaw voicing his own concerns about torture and vulnerable migrants.
In addition, it is a mistake to believe detention centres within the UK are necessary. There are workable alternatives to detention centres. Sweden shows how with political will, a better system can be in place. Detention centres are rarely used, as in 2013 only 2,900 people were detained, despite receiving high numbers of asylum-seekers. The system in place is one of case management, where a case manager will work with a migrant to provide a link for the individual to the authorities and the community. This allows the migrant to engage with support services of the community, and with their own immigration process. In Sweden this method meant that 68% of people ordered to leave the country went voluntarily.
What can you do to help? Don't be a Bystander
Due to the evident lack of public knowledge, Migrant Action believe it is vital to spread awareness about the brutal regimes of the detention estate to your peers. Raise the issue with your local MP and challenge them on what is being done about it. Press your local MP to engage with national campaigns on ending detention. Engage with local advocacy organisations like Migrant Action, or organisations who work directly with detainees. Add your voice to the national campaign 'These Walls Must Fall' http;//detention.org.uk
Stand up for the human rights and for justice for those incarcerated in detention centres